Live Fiber Identifiers
(3 Products)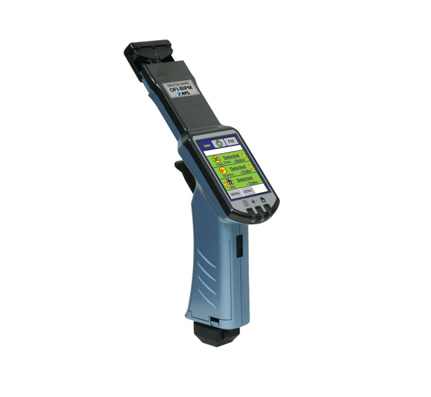 Part#: 900-020296
The OFI-BIPM is an easy to use tool that determines if a fiber is live, the transmission direction and the relative core power on
standard and bend-insensitive single-mode and multimode fibers. Its positive stop plunger mechanism provides the right pressure to assure proper detection while keeping loss to a minimum. The design assures traffic will not be interrupted and fibers will not be damaged. The –BIPM model provides an integrated optical power meter for verification of power levels during installation or troubleshooting activities. The universal head of these OFI's eliminates the need to change adapter heads for jacketed, coated or ribbon fibers, making them extremely easy to use in the field. The touchscreen features provide simple to follow setup and clear to read results.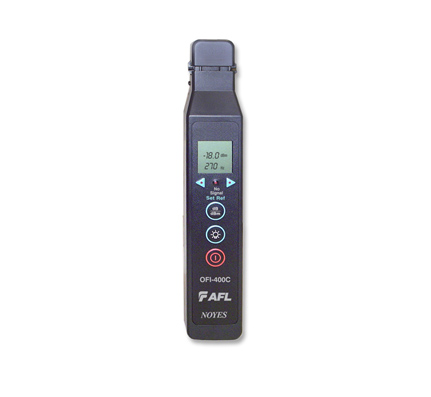 Part#: 900-020049
The OFI-400 is designed for use with a wide range of single-mode fibers including 250 ?m (bare) coated, 900 µm buffered and ribbon fibers or 2 mm and 3 mm jacketed fibers. The OFI-400 is ideal for network personnel involved in installation, reconfiguration, restoration and maintenance tasks that involve bare, buffered, jacketed or ribbon fibers in outside plant pedestals, fiber cabinets, aerial enclosures and inside plant premises demarcation cabinets. The slim design of the OFI-400 head facilitates access in crowded splice trays.
Part#: 900-020219
NOYES Optical Fiber Identifiers are rugged, hand-held, and easy-to-use fiber optic test instruments designed to detect optical signals transmitted through a single-mode fiber without disrupting traffic. During installation, maintenance, rerouting or restoration, it is often necessary to isolate a specific fiber. By simply clamping an Optical Fiber Identifier onto a gently-bent fiber, the unit will indicate if there is "No Signal", "Tone", or "Traffic" and identify signal direction. The OFI-200 model is equipped with a unique two-position head design that can be configured to work with 250 µm, 900 µm, ribbon or jacketed fiber in seconds, without tools or adjustments. When testing coated fibers, the slim design of the OFI-200 allows easier access on a splice tray where the amount of work space is limited. The clamping trigger is ergonomically designed to fit the natural motion of the operator's hand. A high-impact molded plastic case makes the OFI-200 suitable for use outside plant or in the central office.