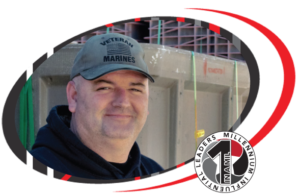 Our 1 in a MIL spotlight recognizes Chris Witte of Millennium Indiana.
Millennium's Influential Leaders (aka 1 in a MIL) help inspire people to be the best versions of themselves while helping drive the business forward. Their goals include both people and results; they create circles of influence and lead by inspiring people around them to be better. They aren't necessarily managers or have direct reports. However, they contribute to the overall success of Millennium by the way they carry themselves, support the organization, and overall contribute to our culture. They are caring and curious. They are dependable and passionate. They are one in a Millennium.
Today, we are excited to turn that spotlight onto Chris Witte. Chris is a Warehouse Associate at our Indiana location. Chris has only been at Millennium for one short year, but he has already made a big impact. Dubbed the "Strongest Person at Millennium" by his team, Chris inspires his team by being a man of initiative and action. He can fix anything (and usually does!) and is known for his creative solutions when an issue arrives. Everyone enjoyed seeing his makeshift snow plow when Indiana was hit with snow and the plows didn't show. When Chris sees a problem, he fixes it!
We sat down with Chris to get to know him a little better and hear his experiences about working for Millennium and what he is passionate about outside of work.
What brought you to Millennium?
I was looking for a job that had a family feel to it, and a job that wanted to make sure I had time to spend with my family. I loved the atmosphere and the people I have met. I knew this was the place for me from the beginning.
Tell us what you like most about working for Millennium.
It feels good to work for a company where you are recognized for hard work. And appreciated for dedication and going above and beyond your normal work duties.
What inspires you to wake up every day and bring the best version of yourself to Millennium?
My core beliefs were instilled in me by my parents and the United States Marine Corps. Millennium gives me a place to apply my skills, teach others, and learn new skills in a fast-paced growing industry.
Name one goal you set for yourself that you want to accomplish in the next year.
To have the best location in the company, to sell the most and move the most product through our facility, and to break records and set new ones to motivate others to do the same.
What are you happiest doing when you're not working?
Spending time with my family, and exploring our state parks. I love going hiking with my kids.
Tell us something surprising about yourself or something unique about you.
I love to invent ways to solve problems. I love to tinker and build things.
Thanks for all your hard work, Chris – Keep it up!